In a volatile trading week, stocks extended their losses as economic growth and inflation concerns soured investor sentiment.
The Dow Jones Industrial Average dropped 2.14%, while the Standard & Poor's 500 lost 2.41%. The Nasdaq Composite index fell 2.80% for the week. The MSCI EAFE index, which tracks developed overseas stock markets, slumped 3.21%.1,2,3
A Turbulent Week
Inflation moved to center stage last week with the release of April's Consumer Price Index (CPI) and the Producer Price Index. Both numbers came near their 40-year highs but were lower than March's year-over-year numbers. The results heightened investor anxiety about future Fed monetary tightening and its impact on economic growth.

In recent weeks, technology stocks have borne the brunt of the downdraft as investors lightened up on risk exposures, with some of the mega-cap tech names getting swept up in the selling pressure. Cooling import price increases buoyed spirits on Friday, helping spark a rally that reduced the week's losses.
Inflation Stays Hot
Investors were greeted with a mixed CPI report, looking for signs that inflation may be cooling. Year-over-year costs rose 8.3%, slower than the previous month but faster than consensus estimates. Excluding food and energy, core inflation climbed 6.2%. Buried beneath the headline number was a 5.1% yearly increase in shelter costs, the most significant increase since 1991. Shelter costs account for one-third of the CPI.4
Inflation has been a weight on markets all year. Investors are concerned that the persistence of higher prices may tip the economy into recession as increased spending on essential needs crimps consumers' spending power.  This all sounds pretty negative for the markets but remember there usually is light at the end of most tunnels!
Take a look at the chart below.  It is a good historical snapshot of how the market has behaved in the past as the Fed began to raise rates.  As you can see, 50% of the time 3 months after the 1st Fed hike, the market was higher than the previous 3 months.  During the next 6 month period after the 1st Fed hike, 75% of the time the market finished higher.  And 12 months after the initial Fed rate hike, the market was positive 100% of the time.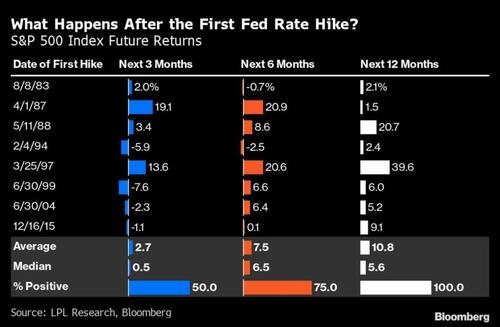 Have a great week!
Trish, Sean and Erin 
Japanese white-eye amongst pink Plumerias.
Footnotes and Sources

1. The Wall Street Journal, May 13, 2022
2. The Wall Street Journal, May 13, 2022
3. The Wall Street Journal, May 13, 2022
4. CNBC, May 11, 2022
5. IRS.gov, February 16, 2021
6. mindful.org, February 22, 2022
Investing involves risks, and investment decisions should be based on your own goals, time horizon, and tolerance for risk. The return and principal value of investments will fluctuate as market conditions change. When sold, investments may be worth more or less than their original cost.
The forecasts or forward-looking statements are based on assumptions, may not materialize, and are subject to revision without notice.
The market indexes discussed are unmanaged, and generally, considered representative of their respective markets. Index performance is not indicative of the past performance of a particular investment. Indexes do not incur management fees, costs, and expenses. Individuals cannot directly invest in unmanaged indexes. Past performance does not guarantee future results.
The Dow Jones Industrial Average is an unmanaged index that is generally considered representative of large-capitalization companies on the U.S. stock market. Nasdaq Composite is an index of the common stocks and similar securities listed on the NASDAQ stock market and is considered a broad indicator of the performance of technology and growth companies. The MSCI EAFE Index was created by Morgan Stanley Capital International (MSCI) and serves as a benchmark of the performance of major international equity markets, as represented by 21 major MSCI indexes from Europe, Australia, and Southeast Asia. The S&P 500 Composite Index is an unmanaged group of securities that are considered to be representative of the stock market in general.
U.S. Treasury Notes are guaranteed by the federal government as to the timely payment of principal and interest. However, if you sell a Treasury Note prior to maturity, it may be worth more or less than the original price paid. Fixed income investments are subject to various risks including changes in interest rates, credit quality, inflation risk, market valuations, prepayments, corporate events, tax ramifications and other factors.
International investments carry additional risks, which include differences in financial reporting standards, currency exchange rates, political risks unique to a specific country, foreign taxes and regulations, and the potential for illiquid markets. These factors may result in greater share price volatility.
Please consult your financial professional for additional information.
This content is developed from sources believed to be providing accurate information. The information in this material is not intended as tax or legal advice. Please consult legal or tax professionals for specific information regarding your individual situation. This material was developed and produced by FMG Suite to provide information on a topic that may be of interest. FMG is not affiliated with the named representative, financial professional, Registered Investment Advisor, Broker-Dealer, nor state- or SEC-registered investment advisory firm. The opinions expressed and material provided are for general information, and they should not be considered a solicitation for the purchase or sale of any security.
Copyright 2022 FMG Suite.